Michelin - Premier LTX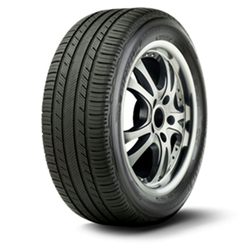 The Premier LTX is Michelin's Crossover/SUV Touring All-Season light truck tire developed for the drivers of crossovers, sport utility vehicles, light-duty vans and pickup trucks looking for tires that deliver category-leading wet grip when new and when worn. Even when worn, Premier LTX tires are designed to stop shorter on wet roads than leading competitors' brand-new tires, as well as provide all-season traction on wintry roads, even in light snow.
Tire Features
UTQG of 620AA
60,000 Mile Manufacturer's Treadwear Limited Warranty on both H & V
Two-Ply Next Generation High Tensile (HT) Body Ply Cord enhances sidewall strength without adding weight, rolling resistance, heat buildup or ride harshness.
Sizes Available
215/65R16
215/70R16
225/55R19
225/60R17
225/60R18
225/65R17
225/65R17
225/70R16
235/45R19
235/45R20XL
235/50R18
235/50R19
235/55R19
235/55R19
235/55R19
235/55R20
235/55R20
235/60R17
235/60R17
235/60R18
235/60R18
235/60R18XL
235/60R18XL
235/65R17
235/65R17
235/65R18
235/65R18
235/70R16
245/50R20
245/55R19
245/60R18
245/65R17
255/50R19XL
255/50R20XL
255/50R20XL
255/55R19XL
255/60R17
255/60R19
255/65R18
265/40R21XL
265/40R22XL
265/50R20
265/60R18
265/60R18
265/65R17
275/40R21XL
275/45R20XL
275/45R22XL
275/50R22
275/55R17
275/55R19
285/45R22XL