Ironman - RB SUV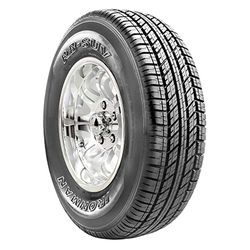 Tire Features
Solid center rib promotes straight-line stability.
Highway touring design delivers extended mileage.
Tread design and placement of tread elements reduce noise and enhance overall ride comfort.
M + S Rated.
Wide circumferential grooves ensure excellent water evacuation while lateral grooves optimize braking performance.
Shoulder design enhances cornering performance and stability at higher speeds.
Sizes Available
225/65R17
225/75R16
235/55R18
235/65R18
235/70R15
235/70R16
235/70R17
235/75R15
245/60R18
245/65R17
245/70R16
245/70R17
245/75R16
255/50R20/XL
255/55R18/XL
255/60R19
255/65R18
255/70R16
265/70R16
265/75R16
275/55R20