Ironman - Radial A/P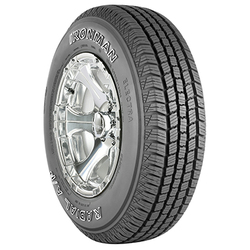 Tire Features
Computer-aided harmonic tread block placement ensures a quiet, comfortable ride.
Heavy siping creates hundreds of biting edges for maximum grip in all weather conditions.
M + S Rated.
Hybrid tread design with large, staggered lugs guarantees traction on any surface.
Durable multi-ply body and deep tread tolerate tough conditions.
Attractive 5-rib, all-season tread pattern for optimum handling and long mileage.
Sizes Available
225/70R16
225/70R16
235/65R17
235/65R17
245/65R17
245/70R17
245/75R16
265/70R17
LT215/85R16/10
LT225/75R16/10
LT235/85R16/10