Hercules - Avalanche R G2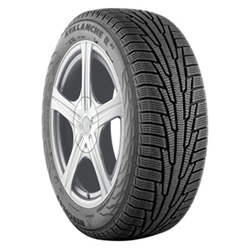 An environmentally friendly tire, the Hercules Avalanche R G2 has very low rolling resistance and is manufactured using purified oils for cleaner, non-harmful use. The Hercules Eco FT logo signifies that the Hercules Avalanche R G2 is an environmentally conscious option.
Tire Features
Tread blocks feature a jagged edge to aid in deceleration and create bite for efficient braking on slippery surfaces.
Advanced siping uses the interaction of wide and narrow sipes to maintain a firm grip on quickly changing winter surface conditions.
Precise tread block geometry and overall structural design create responsive steering and confident handling.
Hercules' exclusive, new AWC2 compound uses silica and clean oils to provide superior lateral and linear grip at low temperatures, while offering outstanding performance in all weather conditions.
'Vacuum' siping on shoulders draws in water to facilitate direct contact with the road surface, releasing it as the tread block rolls upward.
Sizes Available
245/70R16XL